About Us
The Vineyards Motel had the same owner for 28 years. It is the longest any motel in South Australia has been ran by the same operator.
Stan & Liz Ivanof (the operators) retired in June 2007, followed by Marcus & Belinda Wallin & now the current owners Geoff & Danielle Payne. Angaston Vineyards Motel will go through some positive changes over the coming years, both cosmetically and structurally with the intention to further the great reputation developed over the years.
There is now a new & exciting Cafe on site for Breakfast, Lunch & Dinner. Try our Big Barossa Breakfast or the favourite Eggs Benedict with Hollandaise sauce or maybe the traditional Bacon & Eggs suits you more. While your sitting down enjoying your breakfast why not read the paper or watch the local news while a barista made coffee is prepared for you while you relax.
Angaston Vineyards Motel is now more accessible then ever & bookings can be made online through our website, Facebook, Golden Chain or other channels such as Agoda, Booking.com, Expedia or Barossa Tourism. On top of this Wifi is available throughout the motel, to make sure your always up to date with the latest news.
The Vineyards Motel is perfectly situated across from the Farmers Market (every Saturday between 7.30 and 11.30am) and Vintner's Bar & Grill.
Vintner's as well as Salter's Restaurant, 500 metres west of the motel, hosts many weddings and functions during the year and a large portion of the guests are staying at the Angaston Vineyards Motel.
Angaston Vineyards Motel is the only motel in the Angaston area and it has a clear position of affordability amongst a sea of pricey Bed & Breakfasts.
Angaston is an up and coming part of the Barossa Valley with several restaurants, quaint shops and beautiful park areas.
Opening Hours
8am - 6pm with an after hours door station at the reception door or call on- 08 8564 2404

Check-Out is 10am
unless previously arranged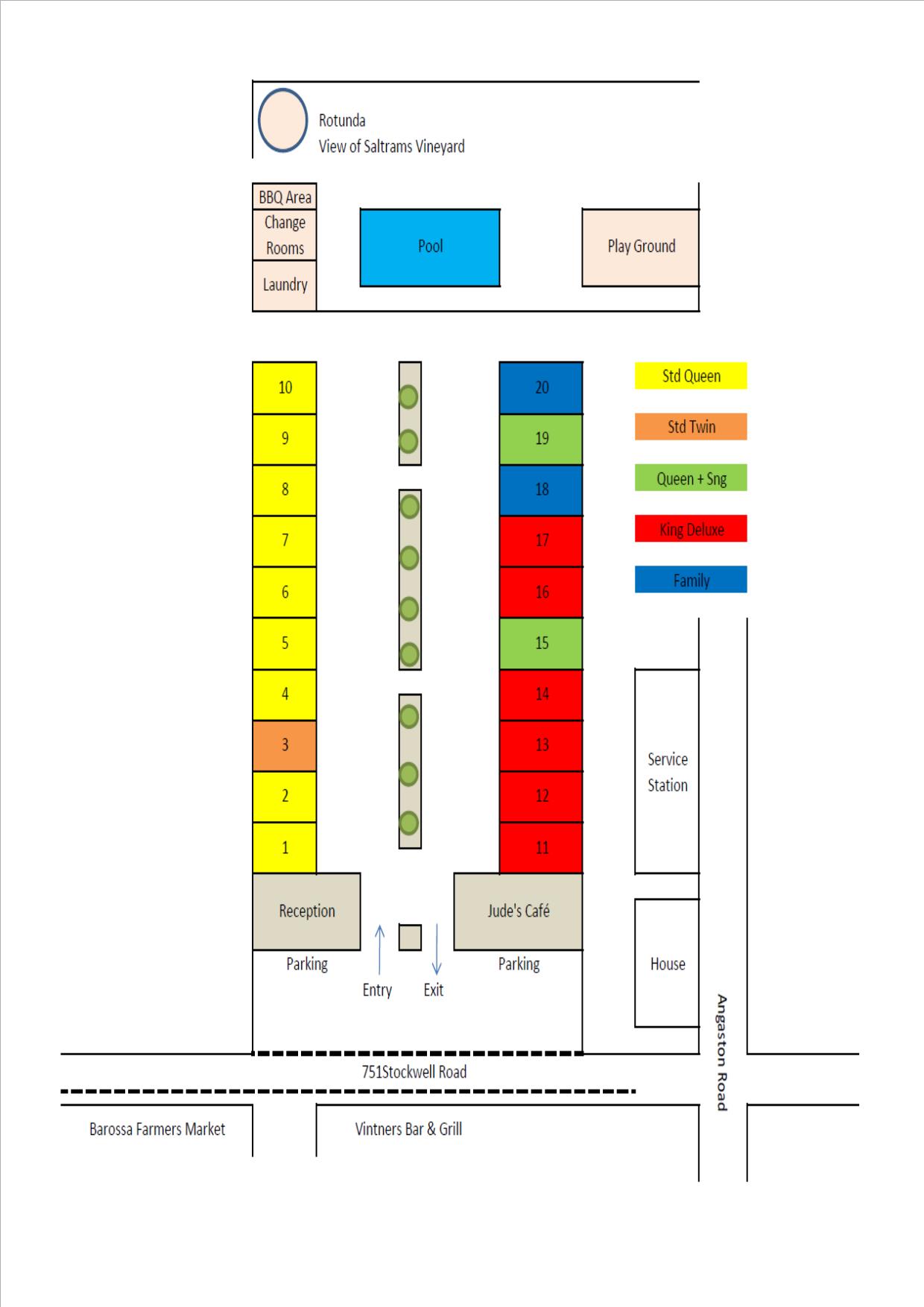 TripAdvisor Traveller Rating

Based on 22 traveller reviews
TripAdvisor Ranking
#
1
of 1 hotels in Angaston
Most Recent Traveller Reviews

4 Feb 2015:

"Convenient and comfy"

25 Jan 2015:

"I expected much more"

7 Dec 2014:

"neat and clean"

1 Dec 2014:

"Loved"

28 Oct 2014:

"Country comfort"
© 2015 TripAdvisor LLC